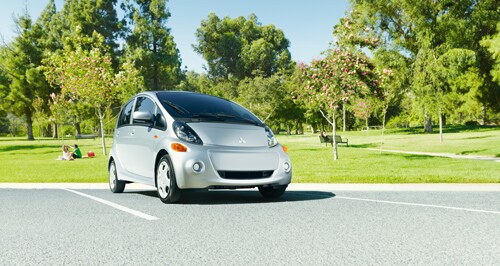 Now at Libertyville Mitsubishi, the 100% electric i-MiEV. Introducing the first electric car with i-MiEV technology that provides a combined 112 mpge* and a range of 62 miles all with out using a drop of gas! Go green in big way with this little electric, though, there is nothing little about it. The i has seating for four and a top speed of 80 mph.
What is MiEV? Well, it is an operating system and the eco-friendly heart of the Mitsubishi i is an integrated management system we call Mitsubishi innovative Electric Vehicle (MiEV) technology. The result of four decades of research, the central MiEV operating system constantly monitors and optimizes the flow of energy throughout the car.
The result is an exhilarating blend of performance and economy in just about any driving condition. MiEV technology creates smooth and constant acceleration. It distributes incoming energy from the regenerative brakes. And it continually regulates the output from the battery. Simply put, MiEV is an automatic copilot that ensures all systems are, well, green.
Some of the great features of the i are:
The stunning dashboard offers easy-to-read feedback, letting you know when your driving is most efficient.
Mitsubishi's proprietary MiEV operating system constantly oversees the major components of the all-electric drivetrain to achieve the best possible eco-friendly performance.
Regenerative brakes convert the energy from deceleration into electricity and recharge the battery as you drive.
The shift selector offers a choice of three driving modes. Choose between maximum fun, maximum economy and maximum regenerative braking.
Strong yet lightweight materials help keep you safe and improve mileage dramatically.
The Mitsubishi i is engineered to meet all of the Federal Motor Vehicle Safety Standards (FMVSS).
Our innovative RISE body design helps to protect both driver and passengers.
The Advanced Six-Airbag3 System includes two advanced dual-stage supplemental front airbags, side-impact airbags (front), and roof-mounted curtain airbags (front and rear).
The Approaching Vehicle Alerting System creates a pleasant, perceptible sound (from the outside) during low-speed operation that alerts pedestrians to your presence.
Active Stability Control (ASC) employs a series of sensors to constantly monitor the grip of the tires on the road. Should the wheels begin to slip, the ASC system works in concert with the anti-lock brake system to apply the brakes intelligently as needed to each wheel, for the ultimate sense of control.
Anti-Lock Brakes (ABS) dramatically reduce the chance of skid on a wide variety of terrain, while a Brake Override System gives preference to the brakes over the accelerator if the driver accidentally steps on both pedals at the same time.
The battery is mounted directly to the unibody, helping to keep you safe in a collision.
Fill out the form on the right for more information.
All features/specifications can be found here
All information as reported by the manufacturer. Combined mpg and range as reported from the Manufacturer's website. All offers with approved credit. Plus tax, title, license and doc fee. Contact the dealer for more information